Inogen portable oxygen concentrators are the most popular models when it comes to portable oxygen therapy. Inogen is known for its small, lightweight, and reliable concentrators. Here we will compare the Inogen One G3 to the Inogen One G4.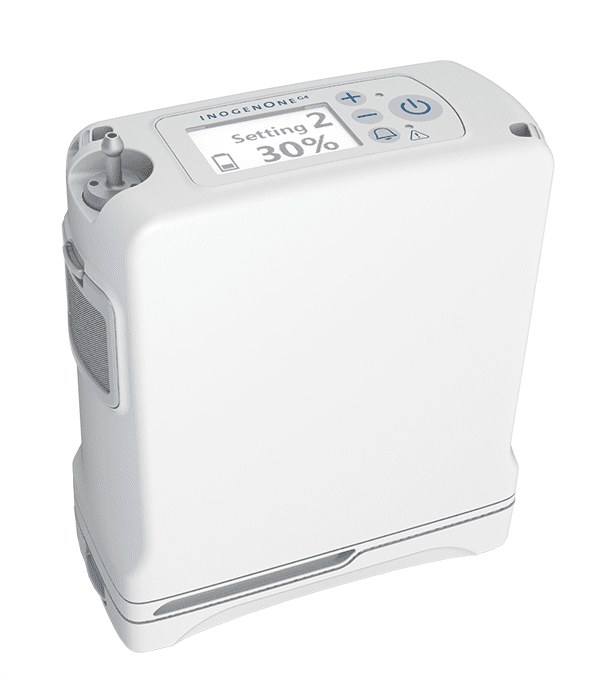 Oxygen Delivery
The G3 and G4 both provide pulse flow oxygen delivery which dispenses a bolus (burst) of oxygen each time a breath is detected. This type of oxygen delivery uses smaller components than concentrators that provide continuous flow oxygen, which allows for a smaller, lighter unit. The G3 provides 1-5 pulse flow settings while the G4 provides 1-3 pulse flow settings.
Both the G3 and G4 incorporate Inogen's Intelligent Delivery Technology. This breath detection technology is fast and sensitive to ensure that the oxygen is delivered at the beginning of the breath cycle which is the most critical time. It also compensates for decreased breath rates by triggering a larger bolus size based on a fixed minute volume. Conversely, a faster breath rate will result in a smaller bolus size which may lead to out-breathing the capacity of the machine. If you are consistently short of breath while using an Inogen, it may be due to a fast breath rate and you may require a different model to meet your oxygen needs.
Another feature of Inogen units is the auto pulse mode. Many oxygen therapy patients will tend to breathe out of their mouth. When this happens breath is not detected and oxygen is not delivered. If breath is not detected an audible alert will sound. If it is still not detected the concentrator will go into auto pulse mode which will dispense intermittent boluses of oxygen until breath is detected.
Size & Weight
Weighing only 2.8 lbs. (3.5 lbs. with a large battery), the Inogen One G4 is the lightest concentrator on the market which provides 1 – 3 pulse flow settings. The Inogen One G3 weighs 4.8 lbs. (5.8 lbs. with a large battery), which is the lightest concentrator that provides 1-5 pulse flow settings.
Battery Time
Both concentrators come with two battery options–a small (single) battery, which keeps the unit lighter, and a large (double) battery, which doubles the battery time on most settings. The Inogen One G4's single battery has 4 cells and the double battery has 8 cells, while the Inogen One G3's single battery has 8 cells and the double battery has 16 cells. Because of the Inogen One G3's larger batteries, it does provide about twice the battery time.
In addition to batteries, both concentrators come with an AC power adapter so that it can run continuously while plugged into a wall outlet. They also come with a DC power adapter which can be plugged into an auxiliary power outlet in a car. This is beneficial as it can run from the car battery, enabling you to have a full battery charge when you reach your destination.
Note: All battery times are manufacturer specifications and based on a low breath rate. Actual battery durations experienced by our customers is usually lower. For instance, the G3 16-cell battery typically lasts 8 hours (rather than 9).
Airplane Travel
The Inogen One G3 and G4 satisfy the FAA requirements for air travel. The small size and long battery time are ideal for air travel.
Summary
If increased oxygen output is required and longer battery times are desired then look toward the Inogen G3. With a weight of 4.8 lbs., the G3 is still one of the lighter concentrators available anywhere. Many oxygen therapy patients might require increased oxygen in the future. With 1 – 5 pulse flow settings many see increased value in the G3 as a better long-term solution. Also, the G3 provides about double the battery time as the G4, allowing for longer excursions and greater peace of mind while away from a power source.
If you are new to oxygen therapy and your oxygen requirements are minimal, or if size and weight are the most important due to factors such as shoulder and back issues, then the G4 is an ideal fit. It is not only smaller and lighter than the G3 but it also may be carried around one's waist, thus alleviating back and shoulder pressure.
The Inogen One G3 and Inogen One G4 are two of the best POCs in their class and we are confident recommending each of these models if they meet your oxygen requirements.