Caire Eclipse 5 Continuous Flow Portable Concentrator
How long is the warranty?
The Caire Eclipse comes with a 3-year manufacturer warranty.
Can I use the Eclipse 5 without a battery?
Yes! The Caire Eclipse 5 can be used without a battery as long as it is plugged into a wall outlet with the AC power supply or a vehicle with the DC power supply.
Can I use the Eclipse 5 while charging?
Yes, the Caire Eclipse can be used while it is plugged into an AC electrical outlet. The external power will run the unit and charge the battery at the same time.
How long does it take to charge the batteries?
It takes about 3 hours to charge the Eclipse batteries.
Can I use the Eclipse 5 while sleeping?
The Caire Eclipse 5 has both pulse and continuous flow oxygen. While some users are unable to breathe properly while sleeping and are unable to trigger a pulse flow of oxygen, the continuous flow settings provide oxygen in the same manner as a home oxygen concentrator and can be used by all oxygen users while sleeping.
The Caire Eclipse portable oxygen system was originally designed for the military where the Eclipse needed to be very dependable in tough environments.
Our Portable Oxygen Machine offered in Denver, Glendale, and Atlanta delivers up to 3 liters of continuous flow oxygen and up to 9 pulse flow settings that are equivalent to continuous flows. Pulse flow was designed to give oxygen to lung patients on-demand when it can be most effective in the respiratory cycle.
The Eclipse Portable Oxygen Machine we supply in Denver, Glendale, and Atlanta is recommended for late-stage COPD oxygen users and pulmonary fibrosis patients who require continuous flow at 3 liters while at rest. When active these patients need higher flows that will meet their demands while walking.
In comparison to carrying portable concentrators weighing 3 to 5 pounds, that have pulse settings from 1 to 6 with a maximum output of 1.2 liters, the Eclipse pulse flow settings are clinically equivalent to a continuous flow of up to 6 liters.
You will not find a continuous flow portable oxygen machine available in Denver, Glendale, or Atlanta, that delivers more oxygen to keep you active than the Caire Eclipse.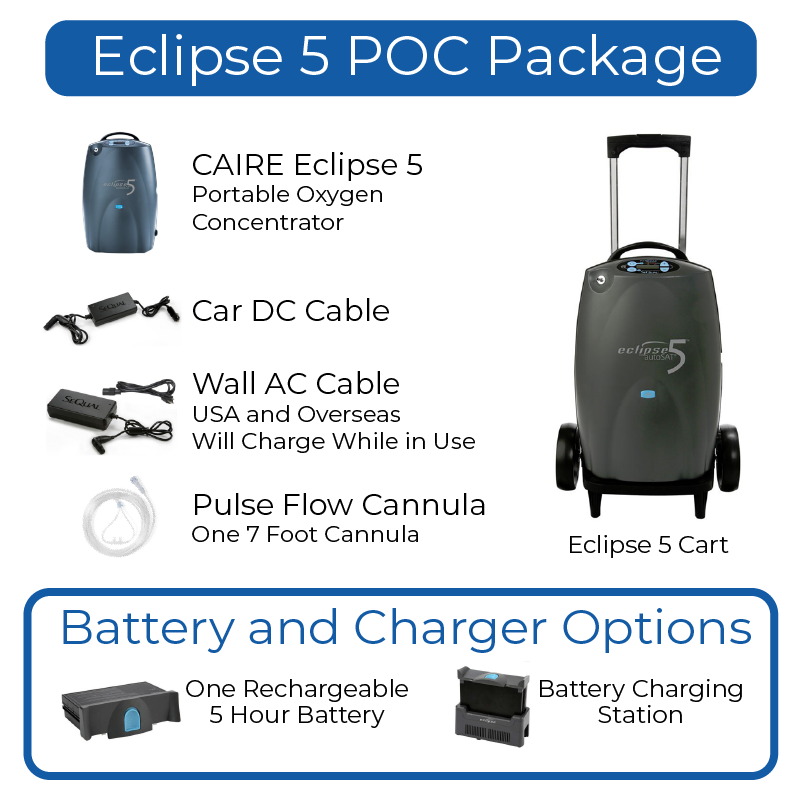 Caire Eclipse 5 Literature